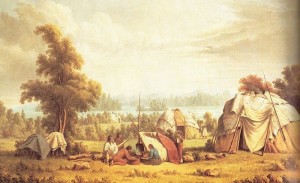 The Chippewa song, Noise of the Village, reads, simply, "Whenever I pause, the noise of the village." The context, understood by the intended audience, is the point of view of someone walking on foot on trails on a hillside above the settlement of his people. That context, missing for us, was immediately accessible to whoever heard or sang that song, centuries ago. The song/poem is a sort of haiku, American-style, which influenced many poets of the late 60s.
It's common for us to feel marginalized by songs, poems— literature in general— of other cultures. It's good for us of the dominant culture, I think, to feel we missed a handout somewhere. We are accustomed to having our literature pre-digested for us. We expect it to be easy.
In celebration of Indigenous Peoples' Day, more commonly Columbus Day, then, I acknowledge the People who came before us here, and who gave the world here its first words. Even the Spanish city and street names here in my neighborhood are a secondary layer of language history. I accept the fact that there is much I will never get, never understand, no matter what. Heck, it's true of Shakespeare, too. Celebrate.
My Village
That said, I also felt on that particular evening that I shared the experience the song describes, in a very contemporary, personal and authentic way. I was walking my dog in the late heat of the October day on the open space behind my "village." The view going up the hill is grand. I can see the maze of gently curving suburban streets below me, the fire station just now springing to life with sirens and swirling red lights. Beyond that, Highway 101 going north/south as always, a river of traffic that never rests. And beyond that more streets of a business park, the canals of Bel Marin Keys, and finally, serene in the still and heat, the Bay—San Pablo Bay, the forehead of San Francisco Bay. As I turn to survey all that, and as my dog notices and decides she can explore the surrounding grassland, I hear the sound of the village.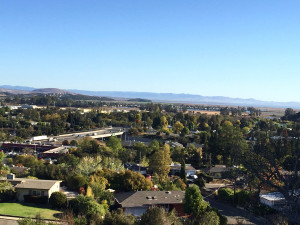 I also imagine from my sentimental perspective that the village sounds the song commemorates were richer, more aesthetic. They were human sounds of a purer nature: children laughing, women grinding by hand a pestle of wild wheat with a stone mortar. A pair of dogs barking. A baby crying. Human, except for the dogs. My village is the traffic.
I was going to say that my village was silenced by the traffic, and that is true, I suppose. But these days we do our living, our work and play, inside thicker walls, walls which conceal our joy and our boredom, our pleasure and our pain. No, the noise from the freeway is legitimately ours, is us, is our village. If, in a few centuries, someone were to study today's American culture, the car would certainly be a star player.
And this evening, as I pause on the hill overlooking the village, for better or worse, it speaks for us.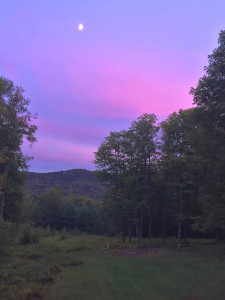 Hello, Darkness.
Like many my age, and especially my generation—my g-g-generation— I have hearing loss. My ears literally, "whisper the sound of silence." And to add insult to injury, as I was first writing this, longhand, my pen started to run dry. The words got fainter and fainter as I pressed on. Not funny, universe.
What's on my mind is the quality of sound when I'm in Vermont, as I was last month. People talk about a passing car being an event. Some, being so unaccustomed to the silence, are actually frightened by the absence of noise. But my fear is not being able to hear the silence.
What passes for silence for me now is a constant buzzing hum, especially in my left ear, thanks to a friend's very loud band one singular night about ten years ago. Leaving, I thought the sprinklers were on outside the club. Nope. Just my ears.
That Frog
The old adage of the frog in the cook pot comes to mind. As my hearing gradually gets more compromised, I am only occasionally aware. Because the rate is slow (like the increase in temperature around the frog) I am not aware of what I am losing. And I have nothing with which to compare my hearing at any one moment. I just notice the cicadas that are not cicadas singing away in both ears. Once in a while, like now when I notice the wind is blowing but I hear no sound of moving leaves, I realize that there is something I'm missing. Or like when I'm out for a walk with my wife and she asks me, "Do you hear that?" Always a hard question to answer. I have to scan what passes as silence and seen if there's anything noticeable about the background hum. Depending on the frequency, of course, there may be. But usually not. Sometimes this amazes her. "You can't hear that?" (Whatever it is.) Nope. Sorry.
Dues
Yes, I am a musician, and yes, I played too loud for too long, probably listened too loud as well, and this is those chickens coming home to roost. But I continue to play, although at much lower volume. I think.
I remember the day I first noticed "floaters" in my vision. Maybe I had always had them. Maybe one day they just appeared, the way an ache in certain joints just seems to be there one day, for no particular reason that you can fathom. All of this, I know, is aging. Being part of a generation that once mocked "anyone over thirty" as hopelessly old and out of touch, there is an ironic payback here. I don't believe I openly mocked anyone, but I, like most people I imagine, never could grasp what getting old would feel like.
In my head, of course, I'm still a young man. I read recently that once we reach a certain age, a certain stage of development, we don't really change that much in personality, in the way we feel, think, or react. I know brain science has trumpeted the plasticity of the brain in recent years, dooming the old dog and his new tricks to the scrap heap. All good. I will do some brain training online after this, I promise. But meanwhile, I sit here in California, midafternoon, in brilliant sunshine, hearing the sounds of the peepers in the twilight of New England in my ears. At least that's how I choose to think of it right now.